What sets Jobble apart in the gig world?
The gig economy's boom is being driven by technology, resulting in a world where millions of workers are using apps and websites to find independent work. According to 2018 Gallup research, 36% of all U.S. workers participated in the gig economy in some capacity. Financial service company Payoneer reports that 70% of freelancers find their jobs through online markets and websites. With numerous different types of job searching sites available, it can be difficult for businesses to find the best way to get their staffing needs seen and filled by the countless workers who want to earn their next paycheck. Don't stress if you need to hire flexible workers: the solution you need is here.
For nearly five years, Jobble has been a catalyst for change within the gig economy by providing an open and transparent discovery platform for workers to find contracts and businesses to find contractors. As a gig platform, you can use Jobble as an all-in-one solution to find, hire, manage, pay and hire flexible workers for your short to long term needs.
Jobble: Letting You Simplify and Customize How You Hire Flexible Workers
Instant access to a nationwide community.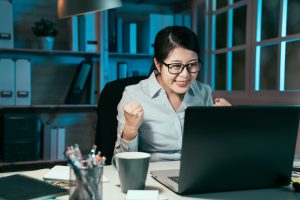 Jobble is an open and transparent marketplace where businesses with on-demand jobs can attract and engage with a community of people in their area that are ready and willing to work. We connect businesses with staffing needs to our network of diverse workers, covering major markets across the country, as well as areas just outside of those major cities. Because our talent spans across the country, and not in just one or two stronghold cites, we've been able to fulfill the staffing gaps that many companies have a hard time filling.
When you post a job on Jobble, you can expect it to be filled quickly. Our app instantly alerts local candidates every time a job has been posted in their area. "Many of our happiest customers came to us in a time of need — when they needed workers right away," said Zack Smith, CEO of Jobble. "They were so pleased by the Jobblers and the Jobble platform that they now see Jobble as a strategic solution for handling the seasonal demands of their business and for immediate staffing."
Some of our business partners have predictable needs and Jobble allows them to source, hire and retain their team from shift to shift. Others rely on the app during times of high turn-over or seasonality. Whether you are a small or large business that needs one or hundreds of hires, Jobble has the flexibility to be your solution every time.
Fill your openings with ease.
Classifieds, job boards and staffing agencies are solutions of the past. Jobble is moving forward with the gig economy's growth by covering several tedious administrative tasks at a fraction of the cost so you can control your spending without cutting corners.
"Traditionally, finding great talent, be it on a permanent or temporary basis, comes with a lot of administrative work (background checks, onboarding and payroll entry, and finally, tax form distribution). We're your one stop shop for that," said Director of Human Resources Allie Hagerty. "On top of managing the areas that often cause headaches, we provide organizations with quality candidates that have been previously vetted by us and other hiring partners. And the real bonus? If you love the output you're seeing, you can hire the Jobbler full time for free– no conversion fee! Where else can you get a deal like that?"
Our business partners have the power to set their hourly rate, securely pay Jobblers at the end of a shift, communicate with workers throughout the process and invite past workers to exclusive posts all for a small convenience fee rather than a marked up rate. One hiring manager can manage accounts across the country or accounts can be for each franchise or store.
Hire and engage with a flexible workforce that matches your needs.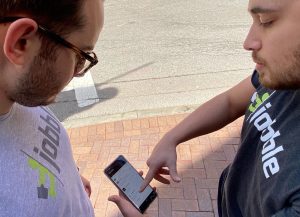 Hiring and then managing a team can be a complicated and messy process, but it's our mission to create a simple and intuitive way to find, hire, manage and pay a reliable workforce.
"Our platform walks you through the process of posting a job in a way that is no more complicated than online shopping," said Sara Avellar, Customer Success Manager. "As a company you are able to really craft a post that targets the workers you want. When applicants start coming in, the selection process is transparent and uncomplicated. It really takes the stress out of hiring."
Workers' ratings, reviews and profiles all contribute to hiring manager decisions and are easily accessible when evaluating a pool of applicants. Hiring managers are in control of the quantity and quality of pre-qualification questions to further assist in finding the best possible matches.
While everything on the Jobble platform is crafted to be intuitive and easy to use, the team at Jobble HQ is also dedicated to the success of both Jobblers and business partners. From our Customer Success team to our Community team, there are real people working hard to not only address the current state of the gig economy but also continue to drive its growth and success.
The gig economy and flexible workforces are growing and businesses need the right tools to stay ahead of the curve. With an active and connected nationwide workforce, Jobble can connect you to the right people at the right time. We strive to be the best place to find and fill flexible jobs and career opportunities with tools created to help make hiring and managing your team as easy and seamless as possible. Sign up today and post you first job so you can hire flexible workers with ease.